COMMERCIAL SERVICES DIVISION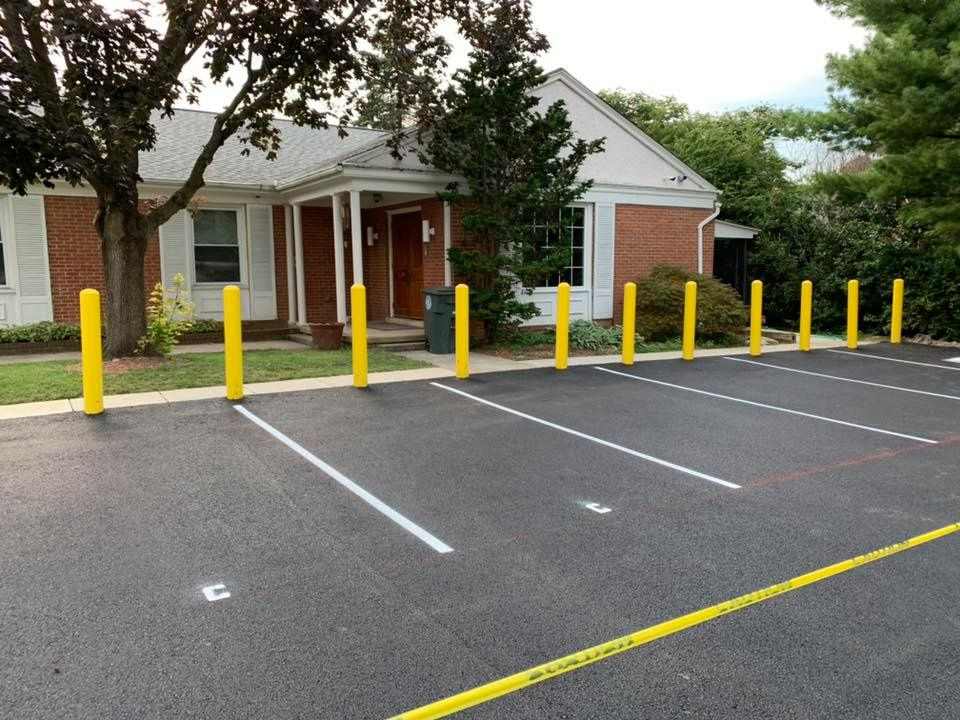 Driveways 2Day is a family-owned and -operated business with years of industry expertise. We value our customers and give the kind of outstanding outcomes and exceptional customer service that you won't get at big companies. In most cases, we can finish even the most extended, twisting driveways and the largest commercial parking lots in a single day. We know our field inside and out, and our method has been fine-tuned. Our company firmly believes that our clients can maintain the size and dimensions of their driveway because of cost aspects. We provide cost-effective services with no compromise on quality and have many commercial clients coming back to us whenever they need any parking lot services and paving done. We have always worked closely with our clients, taking the time to understand their needs, and providing customized services at cost-effective prices.
Commercial Paving
Due to its affordable price and long-lasting durability, asphalt is a common choice for commercial property owners. If you want something different, we also offer tar and chip paving, and these surfaces' advantages keep accruing in the long run. While sturdy, asphalt is 100% recyclable and straightforward to fix. Our staff is skilled in applying the proper foundation and seal coating to guarantee longevity. Asphalt is the material for you if you want to enhance the appearance of your land at a reasonable cost. We customize our services to meet the needs of businesses in the region and provide parking lots, service roads, and other resurfacing. Your staff and clients can drive, park, and stroll safely on a new asphalt surface we can install. Your property's visual appeal, value, and use will increase with a newly paved surface. Our team gives our business clients a range of choices. Read More About Commercial Paving >>
Parking Lot Services
Asphalt is among the most resilient and cost-effective pavement materials. Because it is durable and can survive the environment better than other materials, it is ideal for the severe winter weather that Maryland is known for. It is also an environmentally sustainable option to other paving materials and delivers curb appeal and dependability. Your parking lot can receive additional protection by adding a seal coating, and we also provide these services. When consumers pull into your property, a smooth, tidy parking lot makes a terrific first impression. We provide industry-leading parking lot solutions to ensure that these spaces are functional, aesthetically pleasing, and problem-free! Spending money on a milling service when a parking lot is irregular or full of cracks is essential since paving over existing damage will eventually lead to new harm. Using a milling machine, we gently remove the top surface of the asphalt to produce a smooth and level surface for new paving. Read More About Parking Lot Services >>
Paving Solutions for Property Management
Because it offers a rigid surface that can endure everyday usage by vehicles of all kinds, asphalt is a popular material for parking lots and driveways. Due to its extended lifespan and low cost, asphalt provides a paving option that is both efficient and inexpensive. Whether you oversee a shopping center, community space, or apartment building, our crew can put new asphalt on your site. We can also offer maintenance services to maintain the state of your asphalt surface. Additionally, the installation is quick, preventing lengthy wait times from disrupting your business. We are the company to call, whether you are surfacing for the first time or want to restore or maintain existing paved surfaces. We provide a high degree of professionalism and service by paying close attention to every little thing, being dependable, and acting with integrity in every job we take on. Read More About Paving Solutions for Property Management >>
Commercial Concrete Services
Our company has offered Maryland residents and business owners reasonably priced, high-quality concrete pavements for many years. We take great pride in contributing to the neighborhood and assisting you in creating stunning paved surfaces that will last for many years. For a stamped concrete pathway or driveway, our qualified team of installers would be pleased to provide you with a free estimate. Regardless of the kind of commercial property you possess, we can provide concrete repair services. Count on the staff at our company for driveways, access roads, and parking lots. We maintain or build foundations, such as spread footings, formed walls, pier columns, and trenched footings. In addition, we are experts in installing flooring for commercial warehouses and garages and can pave municipally required public highways and roads. Businesses must stay current with concrete maintenance, and we provide these services to keep their pavement looking beautiful. Read More About Commercial Concrete Services >>
Commercial Sealcoating
Outdoor space durability is likely on your mind if you're turning to us to pave a new asphalt driveway, and we know that your investment must be safeguarded. Paving surfaces made of asphalt, tar, and chips are resilient but not impervious to damage. Your driveway experiences a lot of wear and tear over time due to cold weather and car traffic. The likelihood that your paved surface will perform to its full potential decreases without proper seal coating. Seal coating provides enhanced protection for your driveway or business parking lot and safeguards your investment. Your driveway will also eventually lose its stunning black gloss due to oxidation in the air. Seal coating shields an asphalt driveway with tar and chips from fading and dulling. We use the latest tools and the best techniques in our work so your asphalt driveway will look fantastic and stay protected from the effects of the weather for longer. Read More About Commercial Sealcoating >>
Commercial Overlay/Resurface
Driveways 2Day offers an asphalt overlay service to restore the appearance and functionality of your existing asphalt driveway. Instead of replacing the entire surface, we can add a fresh layer of asphalt over the worn-out area. Resurfacing your driveway will give your commercial driveway a brand-new look while saving you time and money! Installing an asphalt overlay can be finished in a few days, as opposed to the weeks it can take to repair an asphalt driveway completely. Without the hassles or expense of a full-depth replacement, you can quickly and easily have a driveway that feels and looks brand new. You will have a stunning, modern product that will serve you for many years. We have the skills and expertise to handle commercial overlay and resurfacing projects for our commercial clients. We offer you high-quality asphalt resurfacing services at the most competitive pricing. Read More About Commercial Overlay/Resurface >>
Commercial New Asphalt
The rich black color and seamless asphalt parking lot surfaces help improve the look of commercial properties. It is safer and easier to see for drivers and pedestrians because of the dramatic contrast between the paved areas and the white and yellow car park lines. Asphalt has tremendous durability and requires little upkeep, so your pavement will last longer and give your business a higher return on investment. Finally, you'll be able to improve your home while simultaneously benefiting the environment because asphalt is one of the most often recycled materials in the country. We have provided clients with the highest-quality commercial asphalt paving services for many years. Our team can create a viable action plan for you, whether you need assistance with parking lots, access roads, or roadways. By employing only, the best equipment and materials, our asphalt paving expertise assures that your parking lot looks its best for years to come. Read More About Commercial New Asphalt >>
When you start looking for a commercial asphalt contractor you will find many companies in the region offering these services. But only some companies have the skills, experience, and technologies required to do a fantastic job. We are committed to providing our clients value and work with them to ensure the timely completion of every job to the highest standards. Whether you need commercial concrete services for a big office building complex or an asphalt driveway resurfaced, we can help. Our experts inspect the outdoor areas before suggesting the best approach. We use the best materials and the latest technologies, so you get excellent, durable, and long-lasting outdoor spaces on your commercial property. For more details about how Driveways2Day can help with your commercial asphalt and concrete services requirements, call us at 443-993-0580. If you prefer to send us your queries via email, please write to us through this Online Form, and we will call you back to schedule a site visit.