Asphalt Driveway Paving in Frederick, MD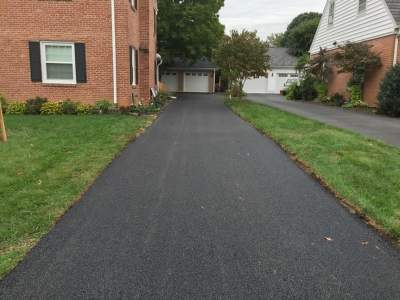 Contact Driveways 2Day for Asphalt Driveway Paving
Asphalt driveways have taken a backseat to other paving materials like concrete, brick, and pavers in recent years. However, it's slowly regaining its popularity as one of the most affordable and resilient paving materials. If you're prioritizing value and affordability, then asphalt driveway paving is a good option for you. Given the wintertime weather in Frederick, MD, and the overall wear-and-tear placed on the driveway's surfaces, your driveway must be resilient. For that reason, Driveways 2Day doesn't hesitate to recommend asphalt driveway paving to Frederick, MD residents. We've handled several asphalt driveway paving projects in Frederick and the nearby areas of Green Valley, Damascus, Montgomery Village, Sykesville, Mount Airy, Germantown, Gaithersburg, Hagerstown, and Urbana.
All of our clients here have been very satisfied with the overall results. We're proud of our reputation for superior customer satisfaction.
What Is Asphalt and How is It Different from Other Materials?
So what is asphalt? First, you've probably heard it referred to as blacktop, and perhaps by its other name: Bitumen. Either way, asphalt is a mixture of crushed stone, gravel, and sand, an aggregate that is around 95 percent of the material's makeup. Bitumen comprises the other five percent. This material gives it it's midnight black color and binds all the other ingredients together. Asphalt has several types, but the most durable and effective is called hot mix asphalt concrete and is produced under extremely high heat. This type of asphalt paving material is highly effective in both residential and commercial settings.
Why Should I Consider Asphalt Driveway Paving?
Contrary to popular belief, asphalt isn't dull and boring. This belief leads to surfaces like concrete and pavers gaining in popularity while asphalt's decreases. Additionally, many people also assume that other paving materials have changed with times, and asphalt has remained the same. That's not the case. In fact, asphalt is growing in popularity due to a broad spectrum of benefits, including:
Cleaning and Maintenance: Asphalt driveways are very easy to clean and maintain. Some types of asphalt surfaces are porous and can direct water from the rain to the ground underneath. You won't have to worry about the rain accumulating on the surface and creating a dangerous, slippery surface. While asphalt requires seal coating every three to five years, the surface will last a lifetime without any need for replacement (provided you diligently seal it.)
Asphalt Driveway Repairs: While asphalt is incredibly durable and will last a lifetime under the right conditions, it isn't immune from damage. Weather and heavy use can result in cracks and even holes. Fortunately, it's straightforward to repair damage to asphalt driveways. All you need to do is give Driveways 2Day a call. Our team assesses the damage and restores it in very little time – usually on the same day. Asphalt repairs are quick, and you can easily use the surface immediately after we finish the renovations.
Asphalt Drives Are Environmentally Friendly
One of the best aspects of asphalt driveways is that they are 100 percent recyclable. In fact, you can keep recycling asphalt as many times as you want, and it'll still be as resilient and aesthetically pleasing as the day you installed it. If you're looking to install a new asphalt driveway, you can request that Driveways 2Day install recycled materials. Asphalt's affordability and environmentally-friendly nature are what makes it so appealing to homeowners throughout the Frederick, MD area.
Utilize Asphalt Seal Coating to Protect Your Investment
In addition to paving and repairing driveways on both residential and commercial properties, Driveways 2Day also delivers seal coating to preserve the natural luster of the asphalt and prevent damage over the long haul. Seal coating is effective at doing both, and Driveways 2Day has over a decade of experience applying the coat over existing and brand-new asphalt and tar and chip driveways.
Contact Us Today for New Asphalt or Seal Coating
While having your residential or commercial property repaved or repaired isn't the most exciting thing you can do; it is critical. A new driveway boosts your curb appeal and makes your home a more attractive option on the real estate market if you are selling. Even if you plan to live in your home for a long time, a brand-new asphalt driveway will make the rest of your property look even better. Faded and cracked driveways don't look very good, something that impacts our commercial clients as well. For that reason, customers who have installed this type of driveway haven't regretted it.
If you have any question about driveways, our services, or seal coating, feel free to give us a call at (443) 280-6126. Driveways 2Day has over a decade's worth of experience providing customers exactly what they need. Contact us today.