Walkway Installation in Frederick, MD
Your New Walkway with Driveways 2Day
Walkways are surfaces that facilitate foot traffic and add elegance and a sense of neatness to your home. Driveways 2Day offers high-quality walkway installation to customers in Frederick, MD who are looking for premier contractors to upgrade the appearance of their home for a reasonable price.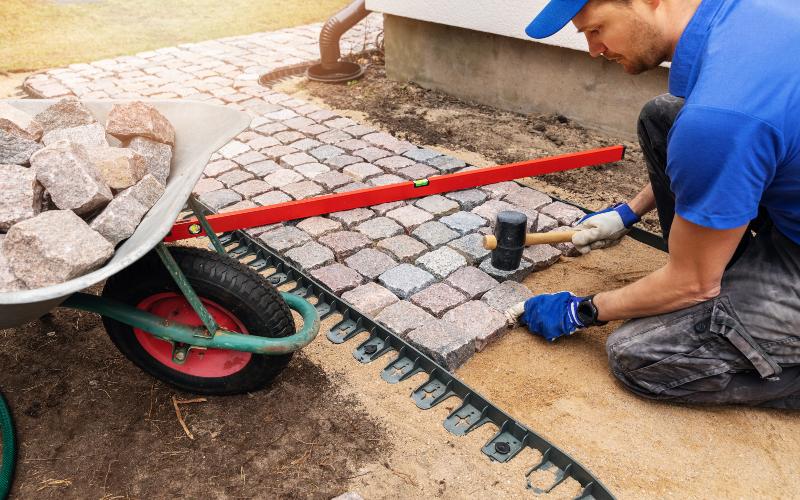 Your Home's Walkway
Adding a paver walkway to your home can enhance the look of your property and improve mobility around your house. Home walkways can be installed in many different styles and materials. Walkway installations can be utilized for your new home that's being built, your current home if you want to add extra décor or functionality, or as an addition while redoing your landscaping.
Materials Used for Walkways
You can choose a range of materials for your new walkway, depending on the style and texture you prefer for your home. Choices vary from concrete, brick, flagstone, travertine, limestone, slate, and more. Our highly trained contractors can make your walkway extraordinary regardless of your chosen material. We can also help you choose which material will work best.
The Various Types of Walkway Styles
We never take a one-size-fits-all approach with our clients. We understand that each client may be looking for something unique, and each home has a distinct style that must be respected when adding any additional feature. We offer a variety of materials and paver walkway installation styles to satisfy all of our customers.
Stepping Stones
Stepping stone walkways involve laying large stones over grass. They are ideal for a garden or a backyard walkway and can offer a unique look. Stepping stone walkways may become overgrown and require more yard maintenance to maintain a clean look. Stepping stones may damage the grass underneath them if they are removed.
Patterned Walkways
Patterned walkways can be laid using many different materials. Using stone, brick, and concrete pavers, our experts can apply patterns like herringbone, basket weave, zigzag, and mosaic. Patterned walkways give you the space to get creative with your walkway, adding personal flair to your yard.
Natural Look Walkways
Natural walkways require experienced contractors to achieve an optimal outcome, as they take longer to install and require precision and detail. Natural look walkways use pavers in various sizes, shapes, colors, and textures to achieve a natural, seamless look.
Are Pavers a Good Choice?
Pavers are an excellent choice for your walkway. They are more expensive upfront; however, they offer greater value and durability than concrete walkway installation. Paver walkway installations are aesthetically pleasing walkway choices. Our experts are here to discuss how you can have your gorgeous paver walkway while respecting your budget!
Maintaining Paver Walkways
Paver walkways offer excellent resilience and are relatively maintenance-free, although regular cleaning and sealing are recommended. Sealing minimizes fading and staining and will increase the longevity of your walkway. Concrete pavers must be sealed every two years. Brick pavers only require regular soap and water cleaning, and stone pavers may crack and need to be repaired or replaced.
Benefits of a Walkway Installation
A paver walkway installation can amplify your home's design. It cleans up the look of your landscape by organizing your property in sections. Walkways also provide a clear, safe path to walk on. You won't have to worry about having your heels get stuck or having an elderly family member potentially tripping on an uneven surface.
Choose Driveways 2Day for Your New Walkway
Our industry-leading team has mastered the art of paver walkway installation. Our expert contractors work alongside our customers to decide on materials and styles that best suit our customer's tastes and homes while respecting their budget and giving knowledgeable advice and suggestions.
Enhance Your Home With Driveways 2Day Walkway Installation
If you're ready to take your home to the next level with a gorgeous, practical, and functional walkway that provides efficiency and beauty to your home, Driveways 2Day is ready to deliver! Our comprehensive team of experts is here to discuss your walkway dreams. Contact us today by phone or by inquiry form.