About Us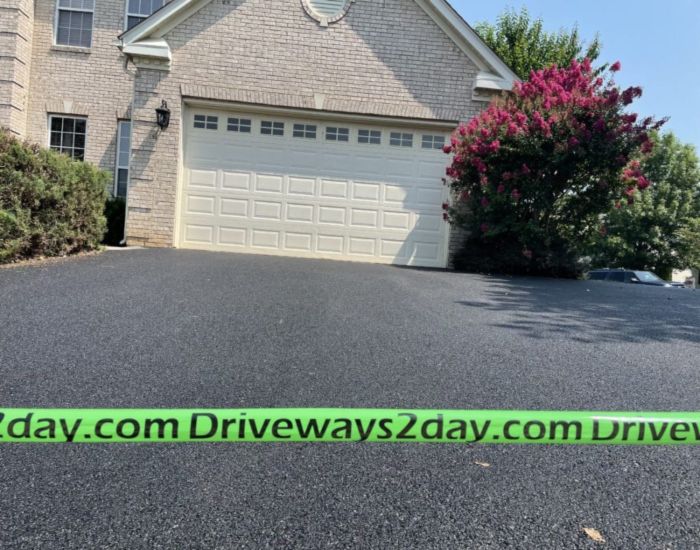 Receive Seal Coating Services by Driveways 2Day
Driveways 2Day is a family-owned and operated driveway services company helping Frederick, MD, and the surrounding areas with their residential and commercial driveway needs. We strive every day to provide a variety of helpful and professional driveway solutions to customers all across Virginia, Maryland, and Pennsylvania. We look at our customers as family and friends, so we always offer services on time and budget. With such quick turnaround times, our company's name was easy to come up with, as customers can expect their driveway to be completed in as little as a day. Let our dedicated crew of professional installation technicians repair, maintain, or replace your driveway today to increase your home's value and enhance its overall aesthetics.
The Driveways 2Day Mission Statement
"Our goal is to provide you with the highest level of professionalism, attention to detail, reliability, and integrity. Our experts will transform your ideas into a beautiful reality. We strive to implement a long-term relationship with our clients based on honesty, quality craft, and timely service."
Trusted Driveway Services for Many Years
Our customers expect nothing but the best when hiring the Driveways 2Day team for their necessary driveway services. We do it all to ensure you don't have to go anywhere else to obtain a safe and protected path leading up to your home. Our staff brings the tools, experience, and skill to live up to our name and give you a beautiful driveway within a day. Please give us a call and let us know how we can help. Our range of driveway services include the following:
Driveway Repairs: Chips, cracks, divots, and more are no problem for our team of professionals. It's best to reach out to us as soon as you notice these issues. They will worsen the longer you leave them untreated – especially if you see water pooling in them. Once water is allowed to seep all the way into the foundation, it can lead to more expensive repairs and even full replacement.
Sealcoating: Sealcoating does more than make your driveway look beautiful. It also helps protect your investment from the hard sun and rainy season. The seal coat also helps extend your driveway's life and should be redone every 18 months to two years to ensure it's doing its job effectively.
Residential Paving: We help all our Frederick, MD, and surrounding neighbors maintain their home's driveway, protecting it from the elements. Whether you need a brand-new driveway installed so you can get rid of messy gravel or you need to replace your existing damaged driveway, we're the team to call!
Commercial Paving: We know how important it is to make a proper impression on your business's potential customers. When they visit, your parking lot is one of the first places to leave that good impression. Allow us to offer maintenance or replacement through our commercial paving services.
Tar & Chip: We offer tar and chip options as a substitute for an asphalt driveway and parking lot. This affordable and aesthetically pleasing option helps raise your business or home's curb appeal. The style is making a comeback in recent years after being overtaken by asphalt options. Driveway Replacement: When the time comes to have your driveway replaced, invest in a company that only has the best intentions for your property. We have dedicated ourselves to learning all the modern tricks and techniques to help give you exactly what you are looking for when it comes to constructing your driveway.
Meet the Driveways 2Day Team
When you need a team of professionals dedicated to the driveway services industry, there is no better team than Driveways 2Day. Thanks to our many years of education and being out in the field, our craft and professionalism are unparalleled. We understand that a satisfied customer becomes an excellent reference, and each job is a representation of the work our highly qualified, licensed, and insured installers perform day in and day out. As a family-owned and -operated team, we do everything in our power to provide your family or company with the best driveway services possible so we can build a lasting relationship.
Frederick, MD and Beyond Come to Driveways 2Day for Help
Over the years, we've worked tirelessly to help those throughout the region with superior driveway services. Once you give us a call to discuss your driveway wants and needs, we work together to ensure our team can deliver. Residential and commercial driveway services are our specialty. That's why we carry out driveway services all over greater Maryland, including these cities and towns:
Frederick, MD
Jefferson, MD
Mount Airy, MD
Ijamsville, MD
Germantown, MD
Woodsboro, MD
Middleton, MD
New Market, MD
Gaithersburg, MD
Thurmont, MD
As well as many areas throughout Virginia and Pennsylvania
Reach Out to Driveways 2Day for Help!
The team of Driveways 2Day is ready and willing to help you with all your driveway service needs. Reach out to us for any questions regarding your driveway or parking lot. We'll send out a team member to give you a quick estimate and then work diligently to ensure your driveway job is completed within a day!
Licenses & Certifications
Patios Today dba Driveways 2Day
MHIC License: #127546
PA License: #PA083649
SBE: #SB10-5359
I.C.P.I (Interlocking Concrete Pavement Institute) certified.
LeadTec – Renovator Certified #R-1-18352-10-00251