Paving Solutions For Property Management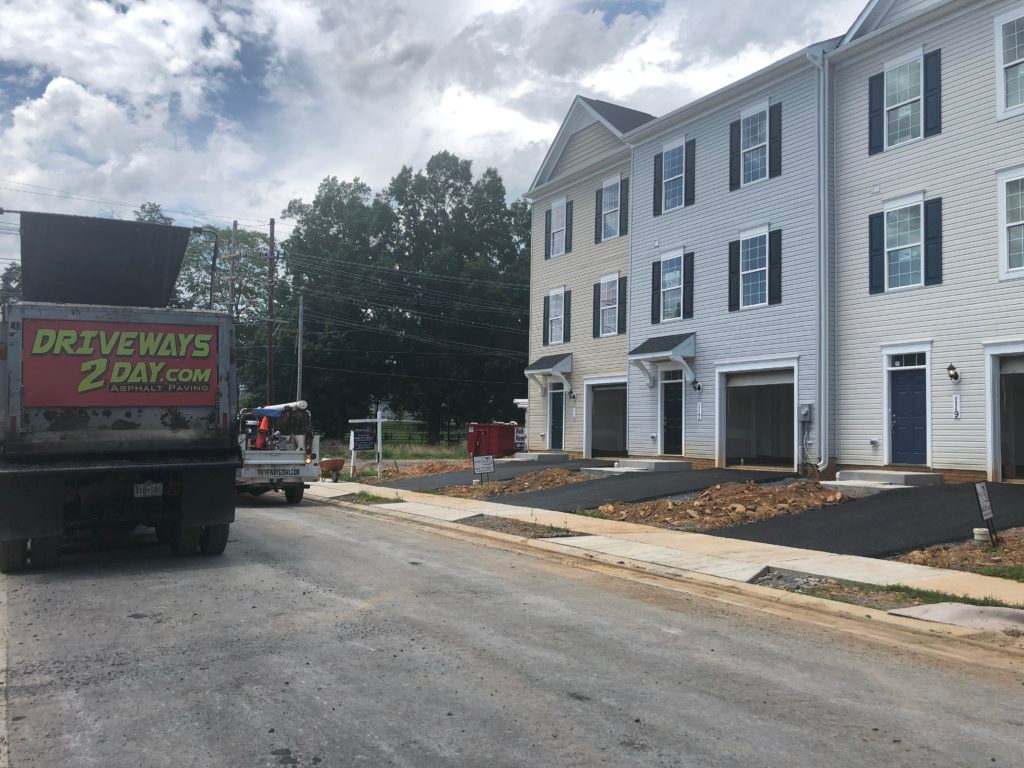 Paving Solutions for Property Managers
Helping Property Managers Pave & Maintain Lots & Driveways
As a property manager, you're in charge of overseeing all aspects of the property. It's your job to ensure every part of the property looks good, functions properly, and is well-maintained. One of the primary parts of this is your parking and driving surfaces. A beautifully paved parking lot, driveway, and sidewalks will welcome your customers and enhance the property. Driveways 2Day offers special paving solutions for property managers in Frederick, MD, and the surrounding areas. Whether you are in the process of paving for the first time or need to repair or maintain your existing paved surface, we are the team for the job. Please reach out to us today for more information.
Asphalt Paving
Asphalt is a popular choice for paving parking lots and driveways because it provides a durable surface that can withstand daily traffic from vehicles of all kinds. Our team can install new asphalt at your property, whether you manage an apartment complex, shopping center, or community space. We can also provide maintenance services to keep your asphalt pavement in good condition. Asphalt offers a cost-effective pavement solution, as it has a long life span and an affordable price tag. It can also be quickly installed, so your business isn't interrupted by long wait times.
Concrete Paving
Though concrete can be used for roads, driveways, and parking lots, it's often used for sidewalks, outdoor sports courts, building foundations, and more. Its versatility is part of what makes it a popular choice for property managers. In addition, concrete is one of the longest-lasting paving materials, lasting anywhere from 20 to 40 years. This makes it a solid investment, even though it comes with a slightly higher price. Our team can complete a variety of concrete paving projects for your property, including parking lots, access roads, sidewalks, and stamped patios.
Providing a High Level of Service
At Driveways 2Day, our goal is to provide our customers with quick service and superior paving results. We offer a high level of professionalism and service by maintaining attention to detail, reliability, and integrity in every project we undertake. As a family-owned business, we feel like part of the community and treat all our customers as part of the team. We work quickly to get your project completed on time and within your budget. You can count on us to deliver the highest level of service when you choose us to complete your paving project.
Improve Your Curb Appeal
As a property manager, you want your property to be inviting to visitors and potential customers. Your paved surfaces, including driveways, parking lots, and sidewalks, play a significant role in your curb appeal. If these areas of your business or apartment community are in disrepair, have potholes, or have dangerous walking surfaces, it can reflect negatively on your business, making a bad first impression that you can't recover from. It could cause potential customers to take their business elsewhere. Our team of driveway services can help you improve and maintain your curb appeal with our paving and maintenance services. With the help of our professional pavers, you can ensure your property looks great for all your visitors and potential customers!
Pavement Maintenance Plans
Though both asphalt and concrete are durable and long-lasting, these surfaces still require regular maintenance to remain in good shape. For property managers and commercial facilities, we offer pavement maintenance plans that combine all the services you need into a single bundle at an affordable price. This makes maintaining your parking lot or driveway much easier, as you won't have to constantly worry about when to schedule service. Instead, your maintenance services will be built into the plan and scheduled periodically based on recommendations from our expert team. These maintenance plans make sure your pavement stays in tip-top shape.
Learn More from Our Satisfied Customers
At Driveways 2Day, we're committed to providing the very best services for property managers like you. However, we don't expect you to take our word for it. Our customers can tell you themselves. Over the years, we've gathered an impressive list of satisfied customers, and they've provided us with their honest opinions of our services. You can read some of their reviews and hear first hand the level of service we provide.
Contact Us Today
If you are interested in learning more about our residential paving services, commercial paving, driveways repair, tar & chip driveways, asphalt repairs, maintenance, seal coating, or other services, we encourage you to reach out to us today. Our team has been helping property managers install, maintain, and repair paved surfaces for many years, and we have the expertise to ensure the job is done right. Please reach out to us for more information or to request a quote. We can't wait to help you improve your property!