Commercial Milling
PARKING LOT MILLING AND PAVING
A smooth, clean parking lot is a great first impression when customers pull into your business. Driveways 2Day offers industry-leading parking lot services to ensure your lot is functional, sleek, and problem-free! Our trusted team has all the knowledge and tools to provide excellent parking lot services for cost-effective prices you can't find anywhere else!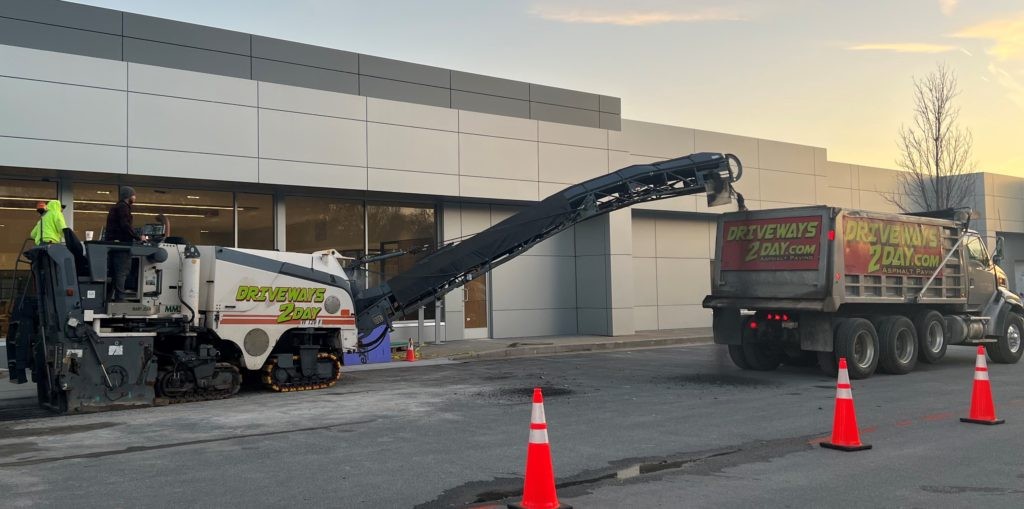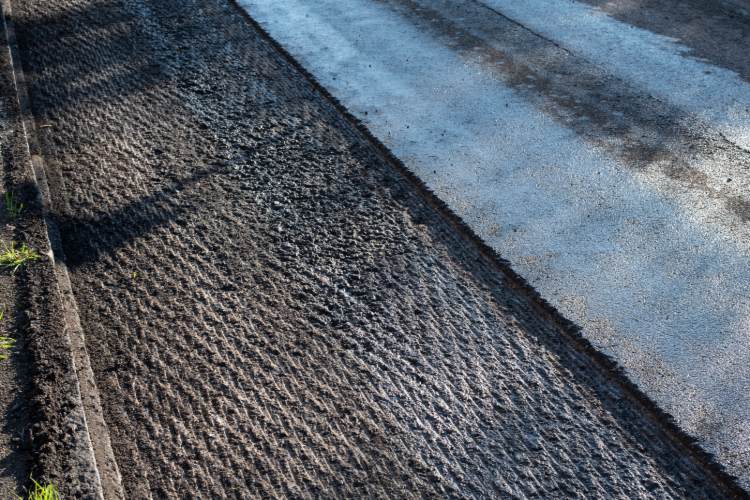 What Are Parking Lot Milling Services?
Parking lot milling is used to level out parking lots to eliminate any uneven areas, correct cracks, or sections where the asphalt is breaking apart or when grading is a problem. Milling is used to remove the surface of the asphalt to add new asphalt. We remove just enough thickness to be able to smooth out the parking lot's surface.
The Process of Parking Lot Milling
When a parking lot is uneven or filled with cracks, it is crucial to invest in a milling service, as paving over existing damage will create more damage over time. To create a good base, we remove the surface layer of the asphalt with a milling machine to carefully ensure a smooth and even surface for repaving.
Asphalt Paving
Asphalt paving is one of the most durable and cost-effective materials. Asphalt parking lot paving is ideal for the intense winter weather we experience in Maryland, as asphalt is resilient and can withstand the elements better than other materials. Asphalt paving offers curb appeal and reliability while also being an environmentally friendly paving alternative. Seal coating can be added for additional protection for your parking lot.
The Benefits of Parking Lot Milling and Paving
Parking lot milling will not put your lot out of commission for an extended period. It is a time-effective solution that is much more affordable than the alternative of completely demolishing and repaving. Milling is more efficient than patching or filling small problem areas on your parking lot. It also tackles multiple asphalt concerns at once, saving you more time and money!
Milling and Paving Services Are Environmentally Friendly
It is no secret that America is in a climate crisis. Businesses are urged to do their part by investing in sustainable practices and eco-friendly products and services. The asphalt milling process is sustainable, as it recycles the aggregate materials it collects, which are then used to re-pave or pave other surfaces. Milling is also a smoke-free process, providing virtually zero air pollution.
Driveways 2Day Can Help Your Parking Lot Look Its Best
Our certified professionals can make your parking lot look brand new with our comprehensive milling and paving services. Our asphalt milling services include grading, patching, ensuring all drains, curbing and transitions are maintained, hauling and disposal, and ADA compliance. Our top-quality services are executed with diligence and precision, guaranteeing a seamless, functional result.
Maintaining Your Parking Lot
Parking lots experience wear and tear. The sun, rain, freezing temperatures, oxidation, oil leaks from vehicles and the eventual breakdown of asphalt that happens with time can contribute to a severely weathered parking lot. We recommend regular parking lot maintenance, including crack sealing and seal coating your parking lot to prevent deterioration.
Choose the Experts at Driveways 2Day
If you own a parking lot that's seen better days, choose Driveways 2Day to revive it with our top-of-the-line milling and paving services. Our reliable team is attentive to detail, handling your parking lot needs efficiently, leaving you with a parking lot you can be proud of. We promise our competitive prices, exceptional customer service, and expert craft are unmatched!
Reach Out to Driveways 2Day
If your parking lot needs a refresh, Driveways 2Day wants to help. Our dedicated team of experts is here to discuss how we can revamp your parking lot with our high-quality asphalt milling and paving services. Contact us today by phone or inquiry form, and one of our friendly staff will be happy to assist you!