Trusted Pavement Maintenance Services in Frederick, MD
Experience Reliable Pavement Maintenance Near You
Our team at Driveways 2Day has been providing reliable residential and commercial pavement maintenance services, driveway services and so much more for several decades. While we are in Frederick, MD, our service areas expand to areas of Virginia, Pennsylvania, and other parts of Maryland. Our professionals are experienced and knowledgeable about what it takes to be the best in the pavement industry. When you hire our team, we will take the time to get to know you, your needs, and your desires for the project. Whether you have a parking lot that needs maintained or a driveway, our team will create a custom pavement maintenance plan to fulfill your needs. Contact us today to see what we can do for you.
Pavement Maintenance – Prevention or Repair?
There are two main pavement maintenance systems: preventive care and repair. Preventive maintenance is the optimal choice in the pavement industry. Potholes in the road can cause serious car damage, and other damaged pavement can be a tripping hazard. Preventive pavement maintenance ensures that the roads and other structures are in good shape and safe for the community.
Driveways 2Day can provide you with a detailed and well-planned and executed maintenance program for your property. Our maintenance program will keep your pavement safe, and aesthetically pleasing for all your guests and visitors. Of course, sometimes repairs are needed. Our pavement maintenance systems provide you with a detailed plan and access to quality prevention and repair for your property. Contact our team today to get a customized plan for you.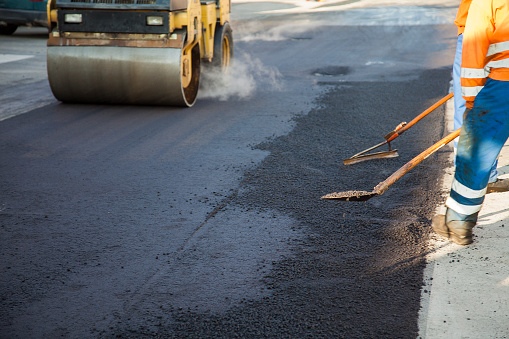 Types of Pavement Maintenance
There are many types of pavement maintenance methods that we use at Driveways 2Day. When we meet with you, we will closely discuss your needs and concerns for your pavement. This will help us to choose the best pavement maintenance method for you. Pavement maintenance involves many aspects of pavement upkeep including preservation, reconstruction, and rehabilitation. But what do these phrases really mean?
Pavement Preservation – This is a long-term strategy that will be put into action by a team of professionals to enhance pavement performance. This strategy usually consists of many other aspects of pavement maintenance. These different aspects are pulled together in an integrated and cost-effective preservation plan to ensure the pavement has a long lifespan and remains safe.
Pavement Reconstruction – When pavement is reconstructed, this entails completely removing and replacing the entire pavement structure. The replacement pavement is often an improved and strengthened version of the previous pavement.
Pavement Rehabilitation – Rehabilitation includes structural improvements that can add to and extend the service life of the pavement. In some cases, rehabilitation is used to increase the load-bearing capacity of the pavement.
Pavement maintenance is usually less aggressive and includes more minor adjustments and repairs to the pavement structure. Maintenance doesn't usually change the structure of the pavement. There are several types of maintenance that will all be used over the lifespan of your pavement. These include:
Routine Maintenance – This is planned work that is completed on a routine basis. This maintenance preserves the condition of the structure and allows us to be aware of any conditions or events that may affect the condition of the structure. When you hire Driveways 2Day, you will benefit from our routine maintenance programs.
Corrective Maintenance – Corrective maintenance can include any repairs or assessments that are performed in response to a hazard, damage, or deficiency.
Preventive Maintenance – Preventive maintenance is a planned strategy and treatment plan to preserve the pavement system, prevent future deterioration and improve the functional condition of the pavement system. This is the best method of maintenance as it reduces the future need for corrective maintenance or repairs. Our team at Driveways 2Day is experienced in creating detailed and beneficial preventive maintenance plans for our clients.
Why Choose Driveways 2Day
When you choose Driveways 2Day to provide you with pavement maintenance, you choose the best short term and long-term solution available. We are passionate about providing the best driveway and pavement solutions in the Frederick, MD area. Our reputation for incredible attention to detail, innovative solutions, and reliable professionalism ensure that our customers are satisfied with each project they hire us for. For incredible and affordable services such as these, contact our team right away. Experience the Driveways 2Day quality and treatment. We also provide the following commercial division services and residential division services for your convenience: