Tar & Chip Driveways
Go with New Affordable Asphalt!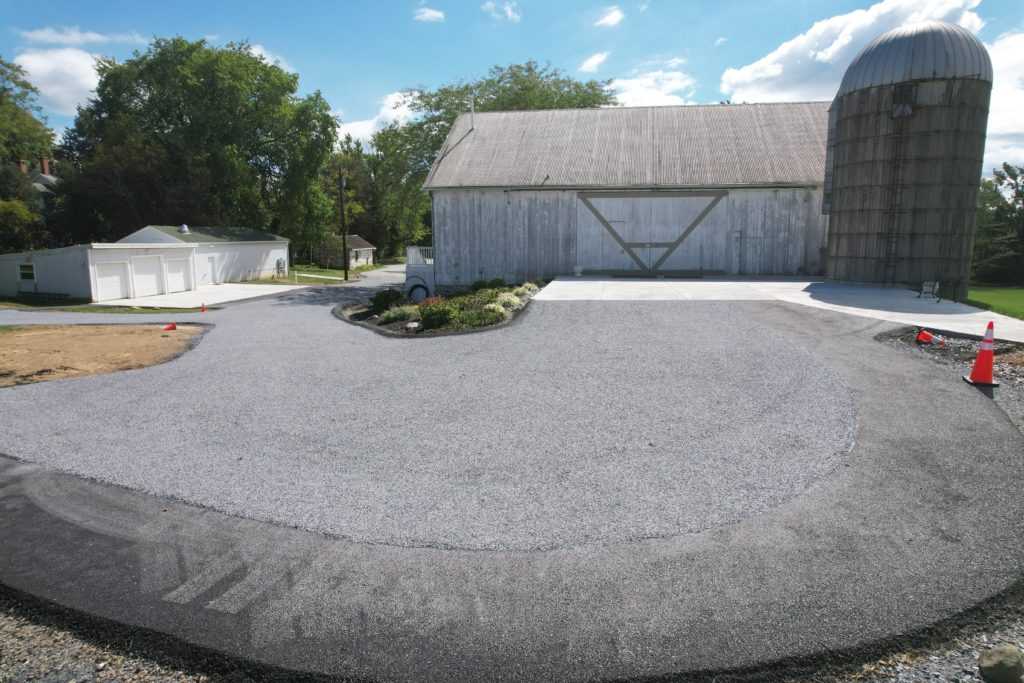 Asphalt driveways already provide a lot of benefits for the price you pay when you install them. However, very few people are aware that there's another, more affordable option available to them. The tar and chip driveway is one of the most inexpensive driveway installations out there, but it looks wonderful when it's properly installed. Very few people are aware of it and very few contractors actually install it.
This is because tar and chip can require a little more effort to install. At Driveways 2Day, we don't like to deprive our clients of good solutions. We have installed tar and chip driveways in our hometown of Frederick and the nearby areas of Green Valley, Damascus, Montgomery Village, and Sykesville.
We have also suggested this driveway to some of our customers in Urbana, Mount Airy, Germantown, Gaithersburg, and Hagerstown who were on a tight budget.
What is Tar and Chip?
This driveway is quite similar to asphalt driveways. That is, they both use similar ingredients in the mixture. If you have an existing driveway that's in a good condition, we can apply this material directly on top of it. We can also install the chip seal driveway on a gravel path.
When we're sure that the driveway is level and ready for the new surface, we apply a layer of very hot asphalt cement liquid. We than use a stone aggregate mix of your choice and spread it on top of the asphalt cement before it cools. We then compact that surface until the aggregate is securely in place. You can choose any color and style of stone you want to achieve the overall look of your driveway.
What are the Advantages of Tar and Chip?
There are several advantages of this driveway material. The only reason why it isn't as well known as other materials out there is because most contractors aren't willing to put in that much effort with a smaller profit margin. Here are some reasons why you should consider a chip and seal driveway:
Cost – As we mentioned before, this driveway is very affordable. In fact, it's just slightly more expensive than a gravel driveway. It provides excellent value for money so those who are on a tighter budget find it an ideal option.

Appearance – You can choose you own stone and there are different kinds of colors and mixes available. When the crushed stone is finally installed, the appearance is natural, rustic, and very beautiful.

Longevity – This driveway would easily last for over 10 years without any need for resurfacing. That kind of lifespan with such a small price tag makes it a very attractive option.

Maintenance – This driveway requires very little maintenance as it doesn't need to be sealed. In fact, it almost repairs itself. Cracks aren't easily visible on this surface but when they happen, all you need to do it wait for warmer weather. Long exposure to the sun would heat the tar and the crack would be sealed eventually.
This is one of the most convenient materials to install on your driveways. If you have any questions about driveways and our services, feel free to call us at Driveways 2Day in Frederick, MD. Just dial (443) 280-6126 and we'll be happy to answer any questions.