Asphalt Driveway Overlay/Resurfacing In Frederick, MD
Driveways 2Day Can Bring Your Asphalt Driveway Back to Life
Asphalt driveways can lose their luster and beauty after years of exposure and use, but the experts at Driveways 2Day know just how to get it back! We offer top-quality asphalt driveway overlay services to revive your old driveway and restore it to its original look!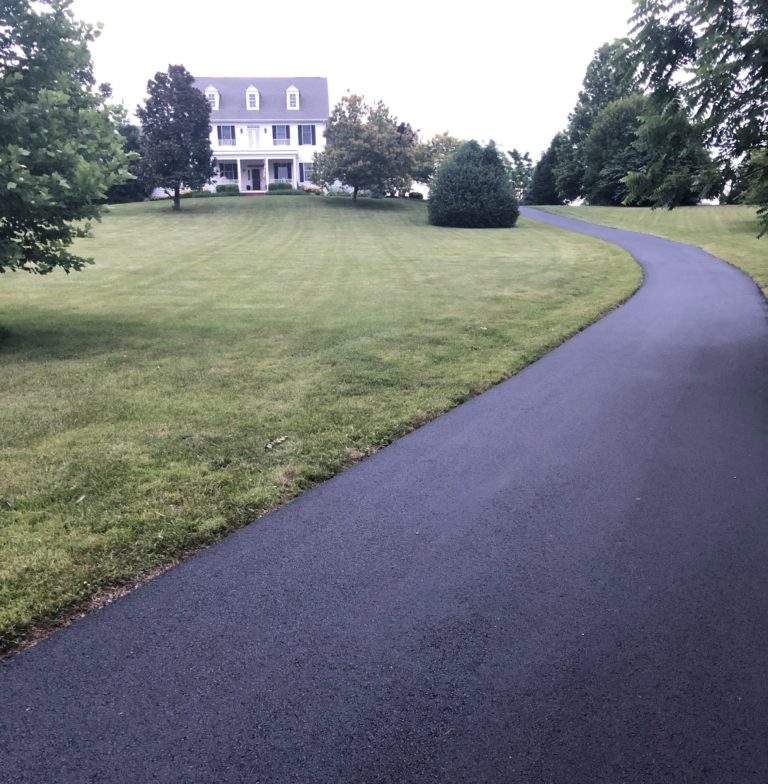 Asphalt Driveway Overlay Service
Asphalt overlay is a service Driveways 2Day provides to restore the beauty and function of your asphalt driveway. We can apply a new layer of asphalt to the deteriorating surface instead of having to perform a full-depth replacement. Asphalt resurfacing saves you time and money while still getting the excellent outcome of a driveway that looks brand new!
The Asphalt Overlay Process
Unlike a complete reconstruction of an asphalt driveway that can take weeks, the asphalt overlay process can be completed in several days. In just a few steps, you can have a driveway that looks and feels brand new without the hassle or cost of a full-depth replacement.
Inspecting and Preparing Your Asphalt Driveway
Before beginning the asphalt resurfacing process, we must carefully assess the state of your driveway. We look for critical factors contributing to the deterioration of your driveway, like grading, drainage, and asphalt damage. We ensure any underlying issues are recognized and noted so we can complete your asphalt overlay project accurately, with a result that promises longevity.
Asphalt Milling
In cases where the asphalt has rutting, potholes, large cracks, or expansions, it will need to be milled before an overlay is applied. Asphalt milling is when the surface layer of the driveway is removed, leaving a sleeker surface to re-pave or overlay. Resurfacing a significantly compromised driveway without having it milled can lead to further damage.
Repairing the Base of Your Asphalt Driveway
Before placing the asphalt overlay, our experts may need to repair areas below the top layer of asphalt. Our paving contractors will seal cracks, fill potholes, and correct sinking using multiple lifts of aggregate and asphalt. We ensure the base is smooth before we continue to the resurfacing portion of the process to prevent any damage from reoccurring.
Asphalt Resurfacing
Once all the initial steps leading to your asphalt overlay are completed, our contractors will lay down the new asphalt. The first layer is a tacky coat that helps the asphalt bond to the layer below; the second is fresh asphalt. We use rolling and paving machines to ensure all the materials are well compacted and smooth.
After an Asphalt Overlay Service
Once your driveway overlay services are completed, you will be left with a gorgeous, sleek, finished product that will last you for years to come. However, it is essential to note that asphalt overlays can take up to three days to fully cure, so it is imperative that you keep cars and other items off the surface.
The Benefits of Asphalt Driveway Resurfacing
Asphalt resurfacing is an excellent alternative to a complete reconstruction, as it's significantly more affordable and far less time-consuming. There is no fear of undercuts during an asphalt overlay, as the base is usually not dug up. An overlay gives your driveway curb appeal and ensures its functionality is restored. Check out our asphalt driveway resurfacing before and after photos from satisfied clients.
Choose Driveways 2Day for Your Asphalt Overlay
Our family-owned and operated company is backed by decades of driveway expertise, making us the best at what we do. We offer exceptional services, friendly and knowledgeable customer service, and results that will make your driveway the most vibrant on the block. We respect your time and property, so we work quickly and efficiently to ensure optimal satisfaction.
Are You Ready for a Superior Driveway?
If you're ready to amplify the dull look of your old driveway with an expert asphalt overlay service performed by the professionals at Driveways 2Day, we are prepared to get to work! We believe in high-quality work with unmatched results for every customer who trusts us with their driveway. Contact us today to discuss your options or to schedule your asphalt resurfacing!