Asphalt Driveway Seal Coating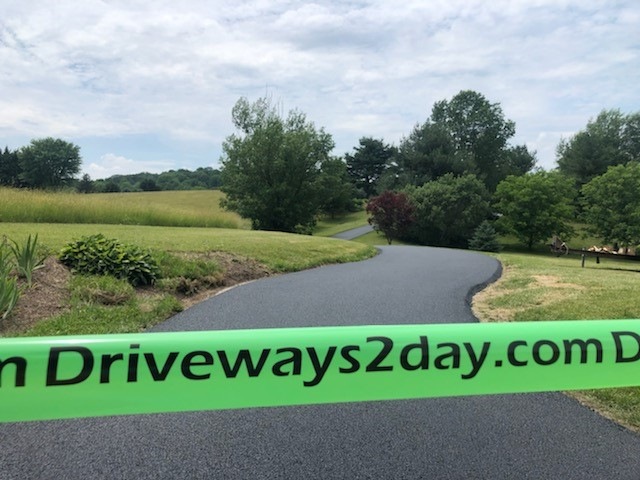 Your driveways are subjected to a lot of wear and tear. It's actually one of the most used pavements in your home. Your cars travel over it, leaving oil spills, tire tracks, etc. The surface is constantly exposed to the harsh external elements like the sun, the rain, snow, and dust. Naturally, even the most resilient surfaces like asphalt start showing signs of wear.
At Driveways 2Day, we've always encouraged our clients to seal their driveway whenever it starts showing signs of deterioration. Our clients in Frederick and the nearby towns of Green Valley, Damascus, Montgomery Village, and Sykesville get their asphalt driveways seal-coated at least once every couple of years.
Our clients in Urbana, Mount Airy, Germantown, Gaithersburg, and Hagerstown have noted that their seal coated driveway doesn't just look good, it can endure the harsh conditions and use better.
Why is Seal Coating Important?
When people install asphalt driveways, they look at the price tag and the promise of resilience. They tend to ignore the fact that an asphalt driveway needs to be sealed every now and then for it to be resilient. Here are some reasons why seal coating an asphalt driveway is important.
Protection – All asphalt pavements are made from a fixed number of materials. They include aggregate, sand, fine stone, and something known as asphalt cement. The last material, the asphalt cement, is what gives the driveway the jet black color that looks so elegant.

You might have noticed that as the driveway grows older, the color of the asphalt dims and fades. It's not just the color that's fading; it's the glue that holds the asphalt mixture together fading. The asphalt cement starts to oxidize when it's exposed to elements like the sun and snow. Eventually, the asphalt mixture becomes weak and the aggregates start to come loose.

Unfortunately, this can cause the asphalt surface to become brittle and start to crack. It's very important to perform driveway sealing regularly to keep the asphalt surface strong.

Looks – As we mentioned before, the asphalt surface starts to lose its color and fades with oxidation. Unfortunately, that leaves the driveway look dull and gray. That hardly contributes to your curb appeal. One of the best ways to maintain the looks of your driveway is sealing the driveway. The seal coat would restore the surface to its original elegant black color that went so well with your home.

Advantages of Seal Coating
There are several advantages of seal coating the driveway. While doing this every few years might be a hassle to some, it maintains the health of your driveway, as:
Seal coating extends the lifespan of your asphalt driveway.
It's more stain resistant and would be better protected against oil spills, gas spills, and water.
The asphalt driveway is much easier to maintain when its seal coated.
The process is very inexpensive and doesn't take much time.
If you have any question about driveways and our services, feel free to contact us. Just dial (443) 280-6126 and we'll be happy to answer any questions.