Asphalt Driveways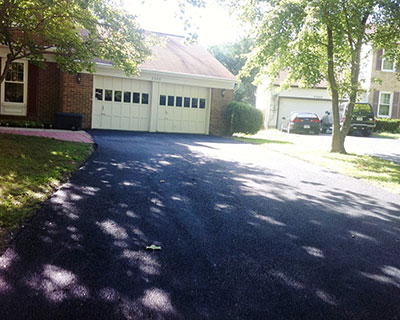 Today, when property owners want a driveway installed, they start looking for new materials that can be used; and pavers made of brick, concrete or natural stone are preferred over materials like asphalt. However, asphalt has always been an excellent material for driveways and now, many people are moving back to this resilient and long-lasting material.
Driveways 2Day provides excellent asphalt driveway installation services to residential property owners in and around Frederick, Thurmont, Westminster, Middletown, Hagerstown, Buckeystown, Mt Airy and Damascus, MD. They recommend the use of asphalt driveways if it matches the clients' requirements.
Why Choose Asphalt?
It's a common misconception that driveways made of asphalt are boring and dull and it's why people had started veering towards pavers and poured concrete installations. The one thing that most people feel is that there have been a number of technological advances in the manufacture of other materials and that asphalt has continued to remain the same. However, this could be no further from the truth. Here are some aspects you should take into account:
Maintenance – These surfaces are extremely easy to clean as well as maintain. Certain types of asphalt are porous and the water can be directed to the ground underneath. This prevents pooling and keeps the surface from turning slippery. However, you would have to seal this installation every 3-5 years and it can last without any trouble for decades.


Easy repairs – This is another distinct plus of asphalt driveways.  In case of any heavy impact and damage, the surface can be repaired very easily and in the shortest possible time.


Environmentally-friendly – This material is recyclable and thus environment-friendly. As a matter of fact, asphalt can be recycled any number of times and it still retains its resilience. If you can opt for a recycled asphalt driveway installation as well. It's very cost-effective, looks stunning and is highly durable too.


Asphalt Driveway Cost
As you can see, an asphalt driveway is an excellent choice for a number of reasons and provides you good value for money in the long term as well. It's an affordable option that adds value to your property. When you are looking for an asphalt driveway installation that will be resilient, durable and aesthetically appealing, you need to hire the services of a well-established and credible company such as Driveways 2Day for the job.
"MORE ARTICLES"
Tar and Chip
Driveways
Paver Driveways
Concrete Driveways
Asphalt Driveways
Seal Coating