Paver Driveways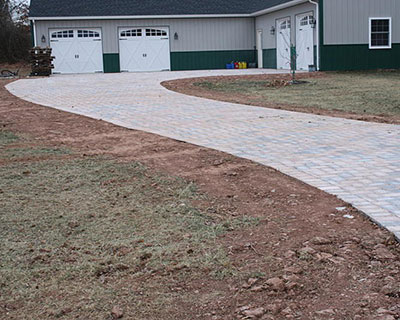 One of the most common applications of pavers is the driveway. Paver driveways are more preferred by property owners over concrete or asphalt driveways because they are more durable and elegant. Now if you need reliable installers for your desired paver driveway, we are the company to hire.
Driveways2Day has more than a decade of industry experience and is a family-owned business. We have completed a lot of driveway installation projects in select cities in the state, including Frederick, Thurmont, Westminster, Middletown, Hagerstown, Buckeystown, Mt Airy, Damascus, and surrounding locations. The paver driveways that we have created for owners of businesses and private residences are noted for their exceptional durability, beauty, and functionality.
Please call us today and let our skilled crews build you an extraordinary paver driveway that you will be proud of.
Only Premium Materials for Paver Driveways
Using the right materials to build paver driveways is critical to achieving outstanding results. Accordingly, we have always used only premium paver materials from the most trusted brands, such as Belgard, Nicolock, and Cambridge. Additionally, we ensure that the driveways we create are totally eye-catching, so we choose stunning designs, patterns, colors, and textures. For example, some of the paver patterns that we employ are circular, running bond, basket weave, European fan, and herringbone.
Our finished paver driveways in Middletown, MD and other areas that we serve are all indicative of our great design taste and skilled handling of the project. If you hire us to work on this type of project, we assure you that you will get a professionally designed driveway. Just tell us your preferences or desired look, and we will recommend the right paver pattern, design, and color combination.
Paver Driveways Created by Experts
Since paver driveways are meant to enhance a property's curb appeal and functionality by improving vehicle traffic, it is only wiser to have them built by people who are experts in the tasks required. Fortunately for residents of Middletown and nearby MD areas, our company has in-house personnel who have worked on many driveway installation projects for the past decade.
We can guarantee that all paver driveways that we design and build are handled by expert people, from masons and designers to certified paver installers. We are highly experienced and we have worked on numerous installation projects for over a decade now. Our crews can build elegant and long-lasting driveways for residential and commercial properties regardless of the design complexity and size involved. The driveways we create are guaranteed suited for Maryland's unique climate so clients can enjoy them for decades to come.
Unlike other paver installation companies with restrictive pricing for their offered services, our rates here at Driveways2Day are very affordable. We believe that clients need not be hindered by their budget limitations, so we have always maintained competitive pricing for our driveway installation services. When you hire us, you can be sure that we will provide you with the lowest price quote for your needed service. Please call us now at (443) 993-0580, and let's start discussing your paver driveway requirements.
"MORE ARTICLES"
Tar and Chip
Driveways
Paver Driveways
Concrete Driveways
Asphalt Driveways
Seal Coating