Driveways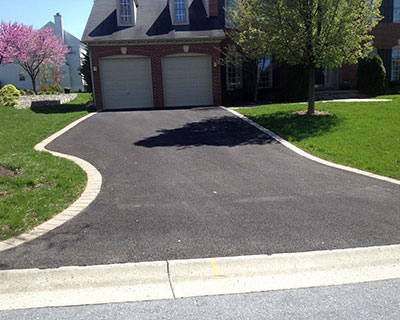 Driveways 2Day have been specializing in the design and installation of concrete, paver, and asphalt driveways. Our expertise in this field of property improvement is honed by our decades of experience in the industry. In fact, we are the only company in the state that offers highly personalized driveway construction services. Since we only focus on driveway design and construction, we can guarantee clients with top-quality installation and long-lasting structures.
Our extensive experience in driveway construction is not only limited to residential driveway installation. We have also completed numerous projects for commercial establishments across Maryland. You can see most of our excellently designed driveways in Frederick, Thurmont, Westminster, Middletown, Hagerstown, Buckeystown, Mt Airy, Damascus, and surrounding areas.
Call Driveways 2Day at (443) 993-0580 to get a free cost estimate for your driveway installation project. We also encourage you to visit our office at 244 W. Patrick Street, Frederick, MD 21701 so we can show you some of our completed projects.
The Right Type of Driveway for Your Property
We have over a decade experience designing and building various types of driveways for residential and commercial clients. In fact, our clients from Frederick and other Maryland cities commend us for our ability to create the perfect driveways for their properties. They are more than satisfied with the results of our work because of our expertise in driveway construction. We can handle the design and installation of any of these driveway types:
Paver driveway. Most of our driveway installation projects involve the use of pavers. This is not surprising given the aesthetic appeal and durability of pavers. We highly recommend these materials because of their design flexibility and available design options. We can easily create a driveway design that is unique and highly personalized. Every paver driveway that we build is elegant and attractive because of our crews' ability to use the right paver pattern, color, size, and design.


Concrete driveway. Our concrete driveways are not the typical ones that you see in your neighborhood. We use modern and decorative techniques to give you a driveway that is durable and stunning. We may use concrete stamping or staining methods, depending on your preferences. We have different stamping patterns so we can easily come up with your preferred design or look. Every concrete driveway that we create is durably built and proven to last for decades without needing major repairs.


Asphalt driveway. If you want a cost-effective type of driveway, then the asphalt driveway is your best pick. Asphalt is an eco-friendly material so this is perfect if you are one of those who are environment conscious. Installing an asphalt driveway is easy for us since we have the necessary tools and equipment. In fact, we can complete the installation of this type within the day.


Hire the Experts in Driveway Installation
Don't think twice about hiring our services today. Driveways 2Day is the best contractor that you can find in Maryland because of our unblemished reputation, quality workmanship, and ability to create beautiful driveways. In addition, we have skilled people, complete tools and equipment, reliable suppliers, premium driveway materials, and client-friendly rates. Call us now at (443) 993-0580 so we can start discussing your driveway installation project.
"MORE ARTICLES"
Tar and Chip
Driveways
Paver Driveways
Concrete Driveways
Asphalt Driveways
Seal Coating