Concrete Driveways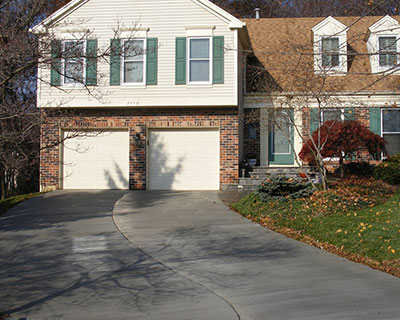 Driveways are not only subjected to heavy vehicle traffic but also exposed to extreme weather conditions that can affect their structural integrity. You should always consider these factors when installing a new driveway in your property. You must also find contractors who can guarantee the durability of the driveways that they will build. And one of the very few contractors in Maryland that can fulfil these criteria is Driveways2Day. We are a licensed driveway contractor with years of experience in the field, so we know how to build sturdy and long-lasting driveways. In fact, the concrete driveways that we build can withstand freeze-thaw cycles and frequent use. They are also low-maintenance because of our modern and proven installation methods.
We are also confident that our driveway designs can meet your stringent standards. Whether it is a driveway for residential property or commercial establishment, we assure you that it will be built with the highest level of quality and workmanship. Our proof is the impressive portfolio that we have and the sheer number of completed driveway installation projects in the state. We have designed and built numerous driveways for property owners in Frederick, Thurmont, Westminster, Middletown, Hagerstown, Buckeystown, Mt Airy, Damascus, and Germantown. Most of them hired us to design and build concrete driveways in their properties.
Concrete Driveway Design
At Driveways2Day, we have creative crews who can come up with unique and personalized concrete driveway designs. We make sure that our clients are satisfied with our proposed designs by incorporating their ideas and preferences in the design plan. We do onsite visits and maintain a close collaboration with clients to help us create the kind of driveway that they desire.
Our company highly recommends the use of decorative concrete methods when designing and installing driveways on our clients' properties. We use concrete staining and stamping methods to improve the aesthetic appeal of the concrete surface. With these methods, we can turn dull concrete driveways into beautiful works of art. In fact, we can mimic the look of pavers and other pricey materials by just using decorative patterns or staining solutions. We use these techniques on almost all our driveway installations, particularly for property owners from Jefferson, MD.
Durable and Long-lasting Driveways
As mentioned, the durability of your concrete driveways must be guaranteed by your contractor. If the company can't assure you of a long-lasting driveway, then you should think twice about hiring its services. You don't want a concrete driveway that is unattractive, made from substandard materials, or poorly installed. It will result in frequent maintenance and costly repair works.
But why worry about these things if you can just call Driveways2Day. Call us now and we will discuss with you how we make sturdy concrete driveways that can last for decades without requiring major repairs. We also maintain competitive rates for our driveway design and installation services to serve all types of clients. We can cater to the needs of residential clients as well as those from the commercial sector. Contact us now if you're from Jefferson and other areas that we serve.
"MORE ARTICLES"
Tar and Chip
Driveways
Paver Driveways
Concrete Driveways
Asphalt Driveways
Seal Coating