Tar and Chip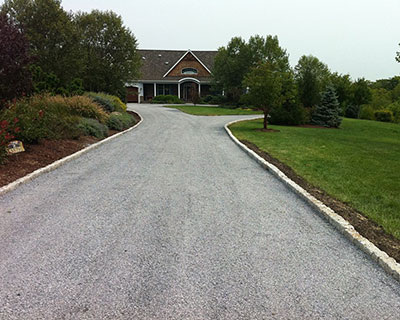 When you choose to get an asphalt driveway installed on your property, you are making a very smart choice. This surface is extremely resilient and durable and it adds to the aesthetics of your property. What also makes it appealing is the fact that it is an extremely cost-effective installation as well.
Tar and chip driveways are an excellent option if you are looking for value for money, but not many people are aware that this option actually exists. As a matter of fact, very few contractors have the training, skill, knowledge and expertise to handle a tar and chip driveway installation.
Driveways 2Day provides excellent tar and chip installation services to residential property owners in and around Frederick, Thurmont, Westminster, Middletown, Hagerstown, Buckeystown, Mt Airy and Damascus, MD.
Tar and Chip – What is it?
These driveways are an excellent option if you are working on a modest budget, but still want an installation that will look good and last long. This surface is actually very similar to an asphalt driveway; this is because similar ingredients are used in the mixture. If your existing driveway is in a fairly good condition, but you want to alter its appearance and add to its longevity and durability, the company can install this type of chip seal driveway on your existing gravel path.
The Benefits of a Tar and Chip Pathway
There are a number of distinct benefits to opting for a tar and chip driveway on your property, including:
Cost-effective – This is an extremely affordable option. As a matter of fact, it's just priced a fraction higher than a standard gravel driveway. In short, this installation is value for money and the perfect option if you are on a tight budget.


Appearance – This surface provides you a great amount of flexibility and you can choose from various mixes and colors of surfaces. Once the crushed stone driveway installation is complete, you will find that the finish looks stunning and rustic.


Durability – As long as you have this installation done by an experienced contractor, this type of driveway can easily last for at least 10 years and you won't have to resurface it in this period of time.


Low Maintenance – A tar and chip pathway requires much less maintenance and you won't have to seal it at all. As a matter of fact, it's also self-repairing. You won't easily notice any surface cracks and even if they do appear, once the weather is hot and sunny, the tar starts to slightly melt and it automatically fills in the cracks and seals them.
When you are considering an asphalt driveway installation, you should choose the company with care. For an installation that will be resilient, durable and aesthetically appealing, it's best to hire the services of a well-established and credible company such as Driveways 2Day for the job. This will ensure you get excellent services at very low chip and tar cost.
"MORE ARTICLES"
Tar and Chip
Driveways
Paver Driveways
Concrete Driveways
Asphalt Driveways
Seal Coating